What happens after consultation, implementation and training for a new solution? At QMetrix, we are with you every step of the way including post-delivery. We help our clients maximise their investment, keep up to date with the latest trends and grow in self-sufficiency.
One way we do this is through a User Group for our Workday Adaptive Planning / Adaptive Insights clients. During this User Group our consultants provide best practice tips and tricks, information on current trends, as well as recent and upcoming features worth mentioning.
After each session, we provide notes so you can easily refer to them and not worry about furiously writing during the session! If you were unable to make it, check back on this page for updates.
Below, you will find information about our past and upcoming User Groups, starting with the most recent on top.
Workday Adaptive Planning User Group – 24 June 2021
In the second user group for 2021, we focused on reporting in Workday Adaptive Planning.
We released a poll early on in the demonstration to gain an understanding of which reporting tool our users were using more frequently. 71% of respondents were turning to Web Reports for their reporting needs, with a third of those users also using OfficeConnect. The remaining 27% were primarily using OfficeConnect.
Notes and a video recording for each segment can be found below.
Reporting in OfficeConnect – we run through some of the recent feature enhancements since the 2021R1 release as well as additional tips and tricks for reporting.
Web Reports – we run through how to building a rolling 12 month report as well as using attributes for reporting purposes.
Workday Adaptive Planning User Group – 16 February 2021
Based on feedback from the community, we focused on two topics for this User Group so we could go more in-depth, especially for the highly requested topic of Dashboards.
From a quick poll we found 59% were not using dashboards with half of those thinking of using it, while the other 41% were using it for either planning or reporting.
Notes and a video recording for each segment can be found below.
Workday Adaptive Planning User Group – 18 June 2020
This session was in a webinar format which proved to be popular especially since clients from all over Australia could join us. During the User Group we did a poll and here were the results among attendees:
Are you currently using dashboards?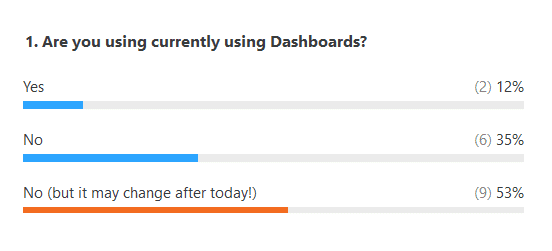 What are you using mostly for your reporting?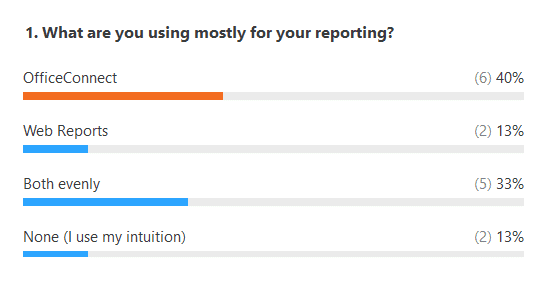 We certainly know some of this will change as we had a client tell us they started setting up Active Dashboards during the demo itself!
Notes for each segment can be found below. This time, we added a video recording of each segment so you can choose to watch and/or read.
Adaptive Insights User Group – 24 October 2019
At our inaugural user group, clients were invited to our office to gain tips and insights, network with fellow Adaptive Insights users and enjoy some drinks and nibbles.
Notes for each segment can be found here: