Deliver confident results faster with IBM Planning Analytics (Powered by TM1)
Plan, budget, forecast, analyse and scorecard in one solution for finance teams.
When things are constantly changing, how do you keep up?
In today's volatile and risky business environment, how can you plan and forge ahead confidently?

For many companies, spreadsheets are the main tool for planning and modelling financial and operational performance. Unfortunately, despite our best intentions, this can be a time consuming and error prone way.
Move with speed, agility and foresight
With IBM Planning Analytics, formerly known as IBM Cognos TM1, you can transform your planning and reporting to have complete visibility. You can provide control and structure with driver-based budgeting, forecasting and planning, as well as reveal insights through business intelligence and analytics.
Translate your high-level business strategy through to operational execution through a systemised planning and reporting application. Speak with one of our Planning Analytics TM1 consultants to find out how we can help your finance department move forward with confidence.
How QMetrix can help your business grow with Planning Analytics
End-to-end solutions from analysis to design and delivery.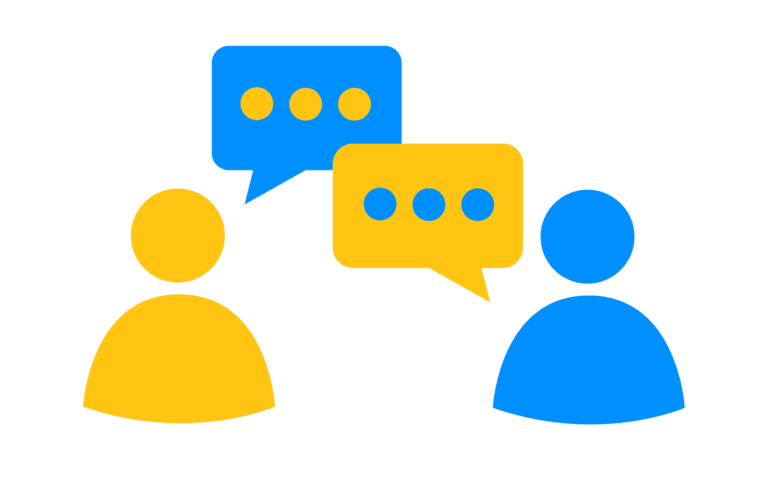 We get to know your goals and share our business expertise to enable you to move with the speed, agility and foresight you need.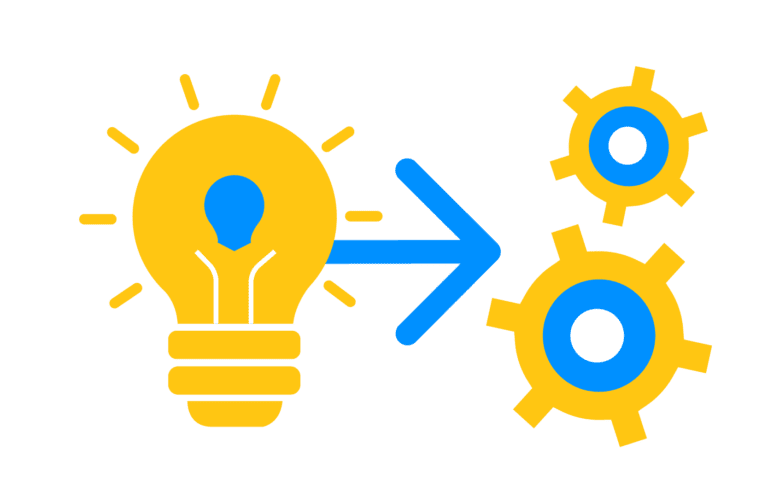 Leveraging the flexibility and power of Planning Analytics to model anything, we build the system according to best practice and your business needs.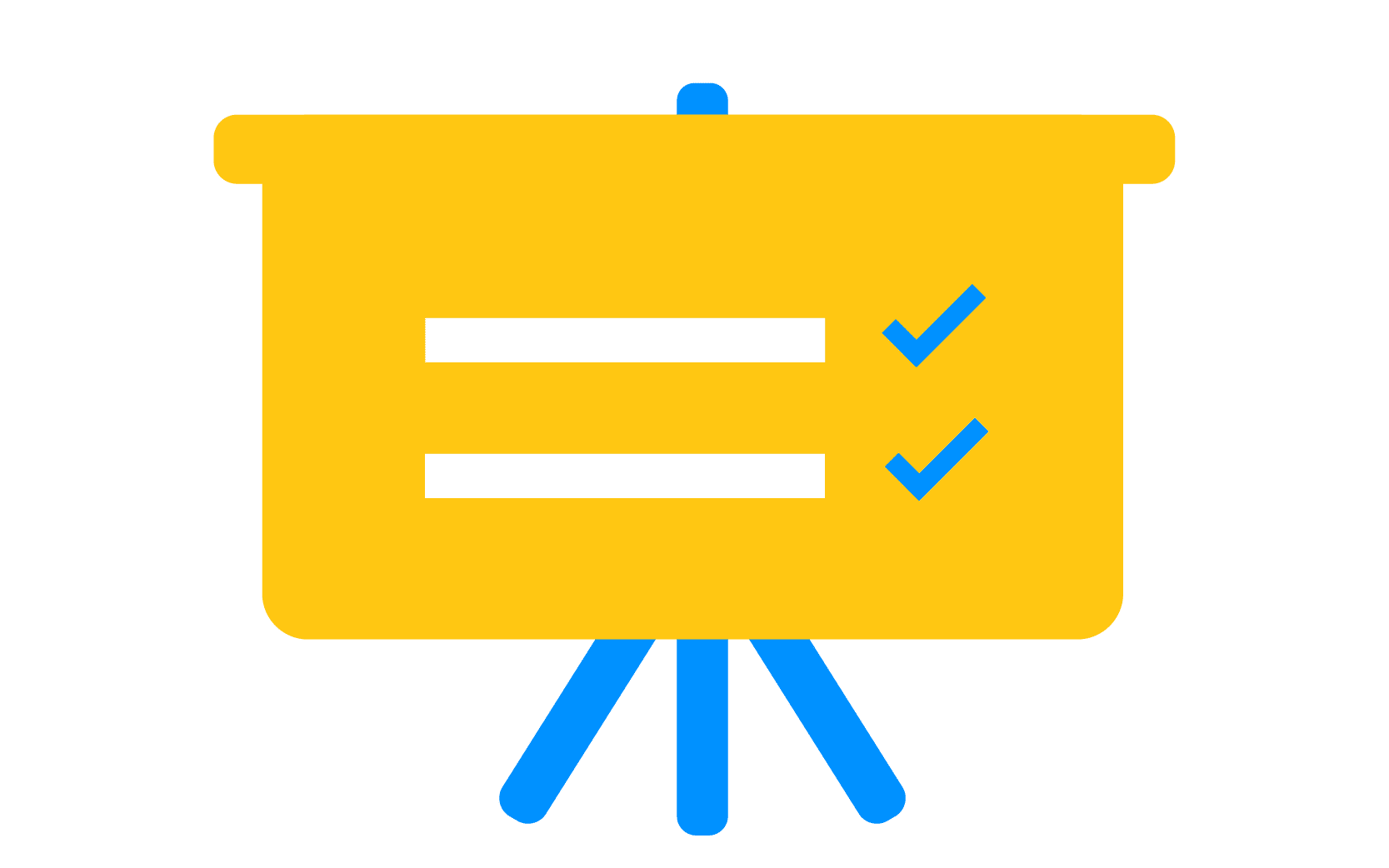 We provide training and ongoing support, so your team can manage the Planning Analytics solution successfully.
Financial and operational performance management in one solution
Empower the office of finance to be more strategic, with improved business partnering to help individual departments plan ahead, take ownership and monitor their own performance.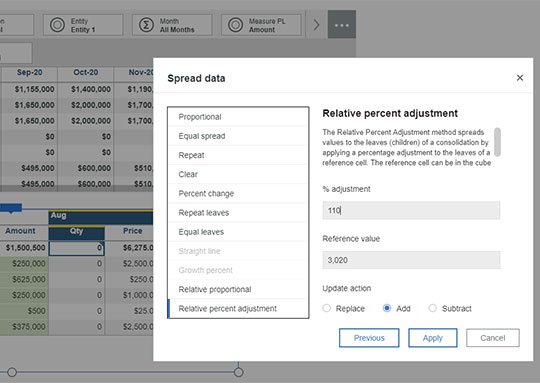 Manage budgets with efficiency, accuracy and agility
Spreadsheets can be useful, but they are limited and cumbersome especially when it comes to large-scale planning. Many finance teams can spend up to 70% of their time on data collection and validation (CFO magazine, Nov 2017).
With IBM Planning Analytics (TM1) you can automate the process for planning, budgeting, forecasting and reporting – and spend more time on value-add analysis and business partnering.
Planning Analytics features a customisable, easy-to-use web-based interface, as well as intuitive drag and drop capability for analysis, reporting and visual analytics.
Planning Analytics can also leverage the familiar Excel interface for inputs and analysis – but is powered by technology that omits human errors commonly made using just Excel spreadsheets.
With the option to choose and leverage the ideal interface that best suits your end users, user adoption is not an issue.
Financial management reporting
Every organisation requires financial and management reporting, often on a monthly, quarterly or yearly basis.
With IBM Planning Analytics (TM1), this process is more efficient, accurate and timely, while also providing greater insights due to its automation capabilities and calculation engine. You can:
Automate department or cost centre re-allocations using built-in drivers and calculations
Automate elimination entries and consolidation rules
Enable statutory and management reporting using alternative hierarchies
Have complex reporting structures; combining account/category with activity and cost centre reporting
Have multi-dimension data, allowing for analysis from varying viewpoints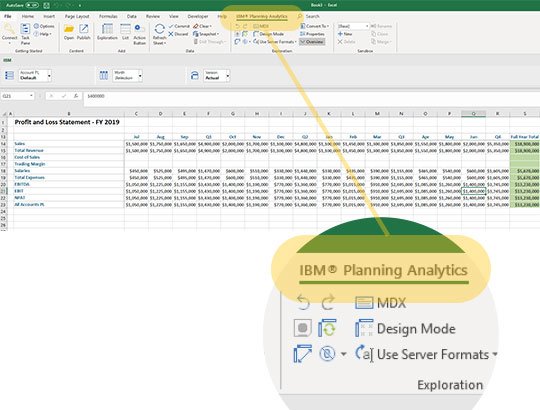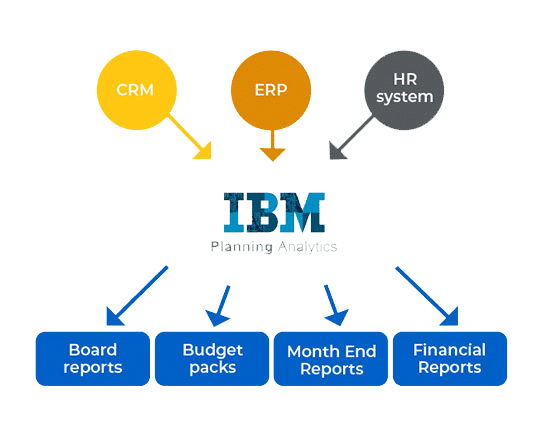 Integrate with any number of source systems
Automatically source data from your source systems and harness that data to gain insights, giving you a thorough understanding of your organisation to improve decision making.
Slice and dice your data any way you like whether it is financial or operational metrics, and drill down to detailed transactions to identify where the underlying issues are.
Best of all, leverage this business intelligence capability together with planning for a comprehensive and complete performance management solution.
Powerful, flexible and scalable
IBM Planning Analytics is powered by one of the best in-memory calculation engines available, allowing for the most sophisticated and complex modelling to take place without any hit to performance. The application is scalable to handle hundreds of users all logged in and entering in data at once.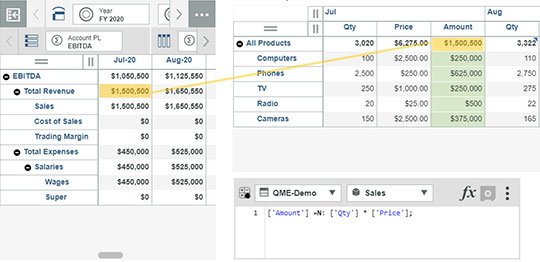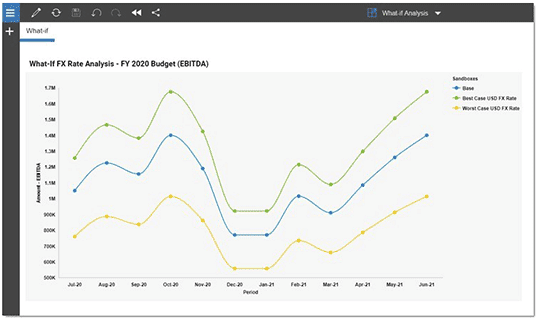 Model multi-dimensional scenarios
The market is constantly changing. What if you wanted to do things differently? With IBM Planning Analytics you can test assumptions and explore scenarios in-depth to see the impact of alternative decisions.
What if we opened a new store, expanded our product range or increased our prices? How would these changes impact our financial position and cashflow? 
Through what-if analysis capability, you can play and tinker around with as many different scenarios as you want from the best case to the worst case to better plan for the long term.
Visualise your data in a customisable workspace
Easily construct planning input templates and convey important information to cost centre owners and business managers in the way that best suits them.
Leverage impressive graphs and charts for dashboards, or crosstabs and tables for those who like to see detailed metrics. With IBM Planning Analytics there is flexibility to customise and create the ideal workspace interface.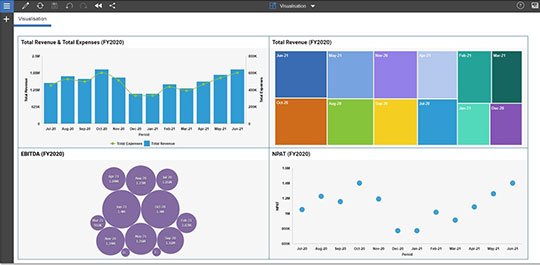 "Our finance team has been given greater ability to do more meaningful analysis and reviews. It used to take a full day and a half to create month-end reports. Now, with Planning Analytics, the process it is fully automated and available at a click of a button."
Struan Richards
Group Finance Manager, Independence Group NL (IGO)
See how IBM Planning Analytics puts budgeting, forecasting, analysis and scorecarding at your fingertips. Watch the video.
Want a personalised tour of how IBM Planning Analytics works?
Why IBM Planning Analytics?
The key strength of IBM Planning Analytics (formerly TM1) is its flexibility and power to model anything, from the most granular retail store and product SKU plans to comprehensive mining industry life of mine (LOM) 30 year plans.

With Planning Analytics, take the risk out of traditional multi-sheet and workbook Excel spreadsheet planning models that only one person in your finance department of a multi-million dollar business can untangle.
Powerful, fast and scalable modelling capability
Anytime, anywhere access on the web and mobile
Customisable user interface with the ability to plan and visually analyse all in one interface
Integration with Microsoft Excel to plan and analyse in Excel – particularly useful for month-end and board reports
Integrate with any source system for automatic data feeds
Multi-dimensional what-if scenario planning
Real time cross-team collaboration to drive accountability in the planning process
Cuts planning and consolidation time by up to 70%
Reduce budget cycles by 70%
The Monash IVF Group had several operational systems, difficulty tracking performance, and issues with the long budgeting process. Learn how their solution provided:

∙ A single solution which integrates bespoke data sources
∙ Accurate and timely information to management daily
∙ The means to optimise resources and drive profitability


Frequently Asked Questions
"IBM Planning Analytics has made the (pricing) process much simpler and incredibly more transparent. It's a really good tool actually. The system has given us a much more intelligent way to execute a process which is fundamental to good business."
Chris Pembrooke
Chief Financial Officer, Ballantyne
Want your finance team to be more analytical to support and partner with the business?
Leverage IBM Planning Analytics to streamline your planning and analysis.