Accelerate your business with frevvo – 100% automated workflow management
Build forms and transform manual processes into automated, streamlined workflows.
When your everyday operations are based on paper and email, how will you compete in the digital age?
You find a form, fill it out, email it to a manager who prints and signs it. You then follow-up, correct errors and enter the data into various systems manually. You also must consider exceptions, business rules and conditions which can change the process. 
Indeed, processes can be complex, and the more manual they are, the slower and more error-prone they are. 
Automate everyday processes and accelerate your business
With frevvo, you can automate all of that. Requests such as employee leave, new suppliers and travel expenses can be digitised with all necessary validations, business rules and workflows, without worrying about data handling errors and missing steps.
As an intuitive, visual tool requiring no coding knowledge, anyone in your team can leverage existing templates, build forms and manage workflows in frevvo. Whether it is improving back-office efficiency and accuracy, or delivering better service to customers and suppliers, it will accelerate your business and enhance performance.
How QMetrix can help your business grow with frevvo
End-to-end solutions from analysis to design and delivery.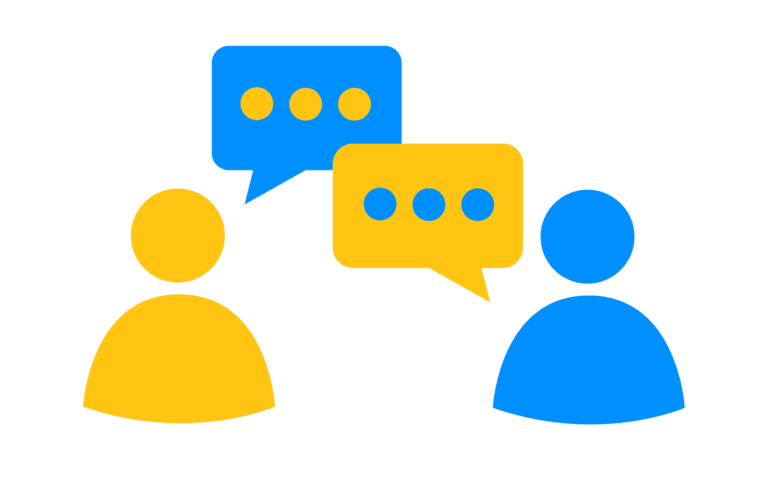 We get to know your organisation and advise on process automation that will drive efficiency and ease for your staff, customers and suppliers.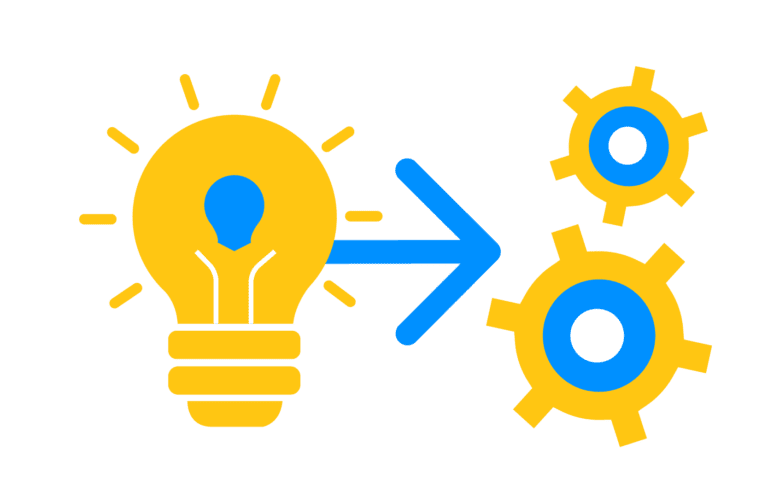 Using best practise, we connect frevvo with your underlying data and systems, build UX-friendly forms and automate workflow management for your business' needs.
If you simply need some guidance, QMetrix can support and mentor internal resources to drive outcomes and ensure successful deployments.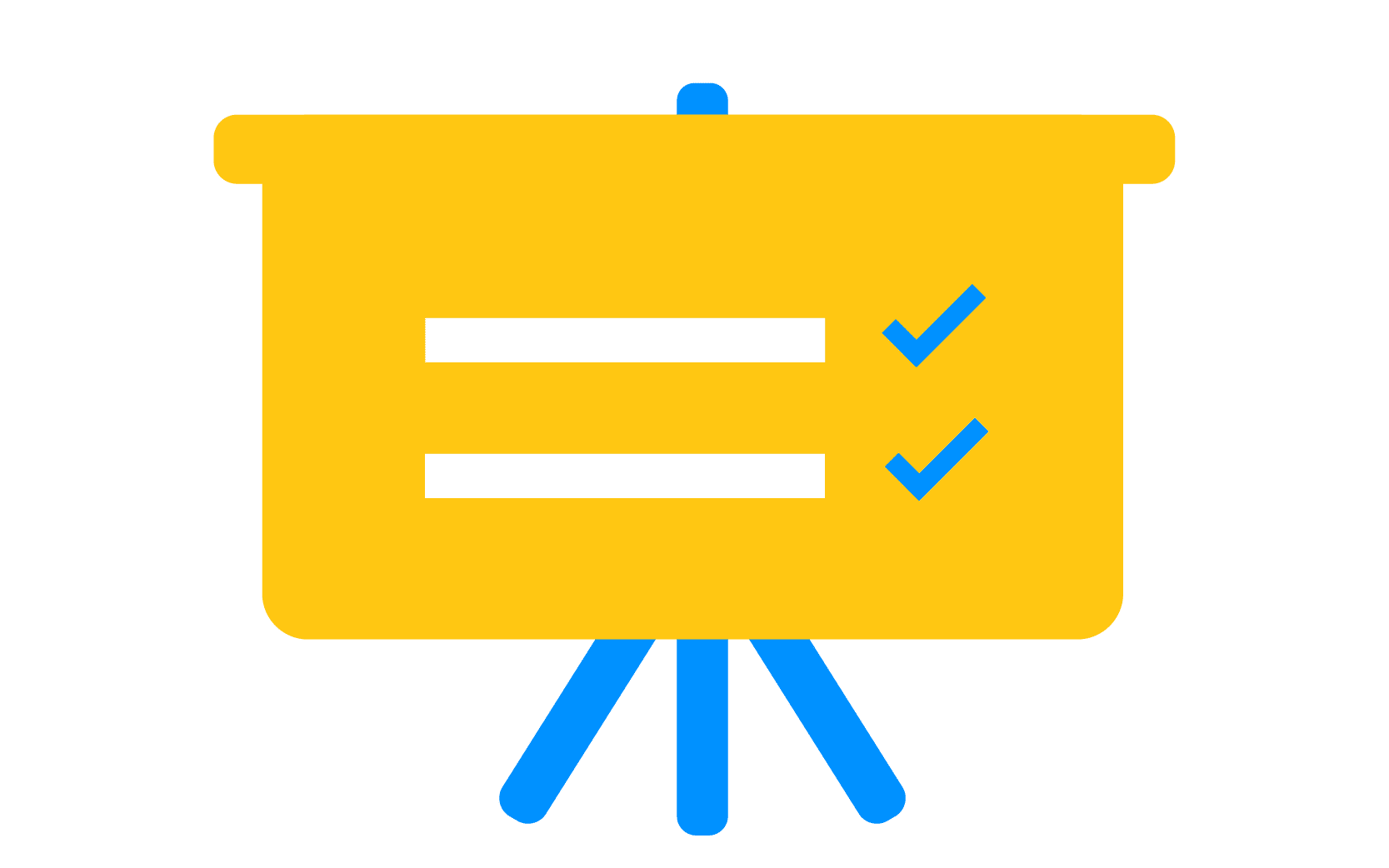 To ensure your team can build on and manage the system, we provide training and ongoing local support.
Automated business process management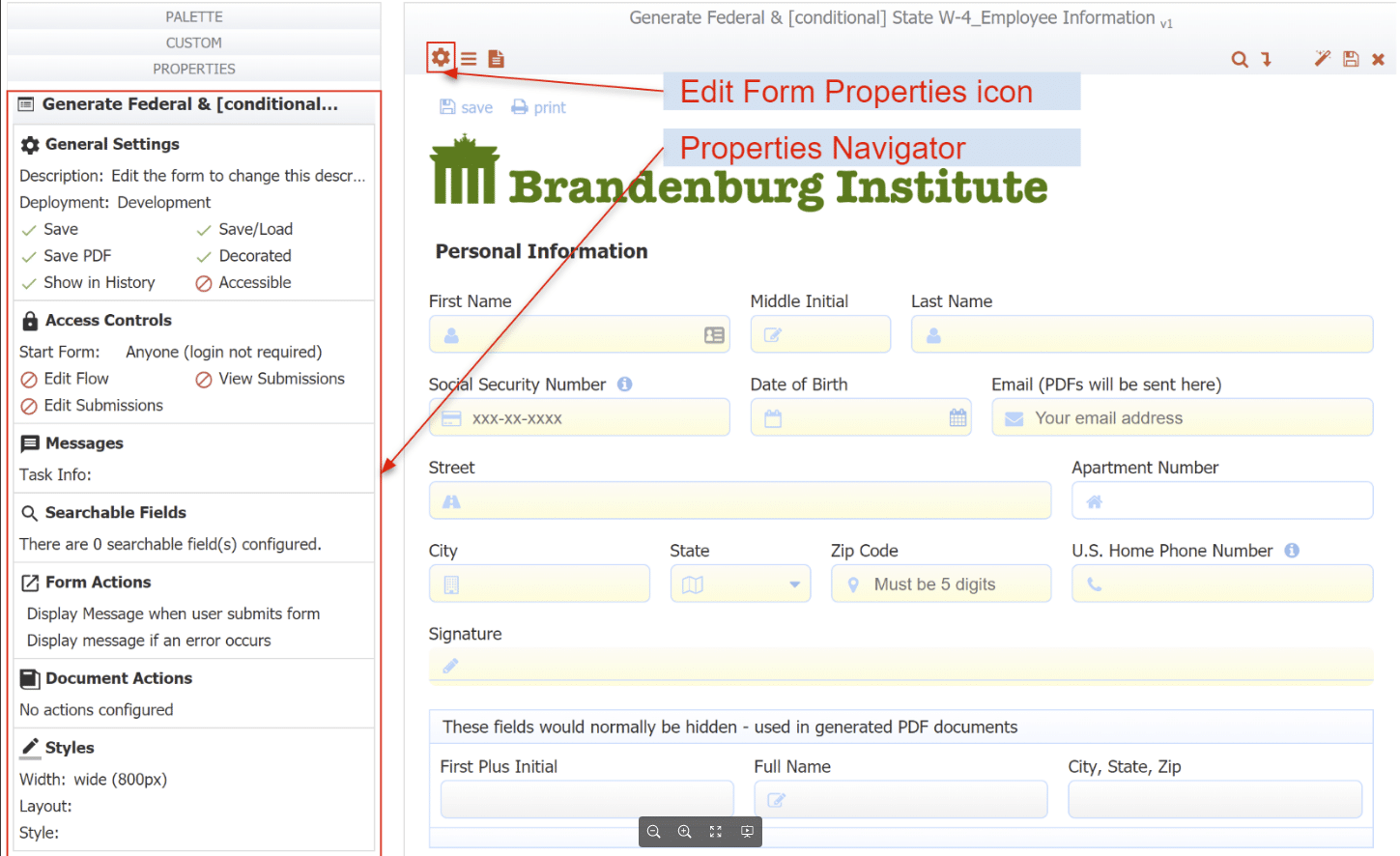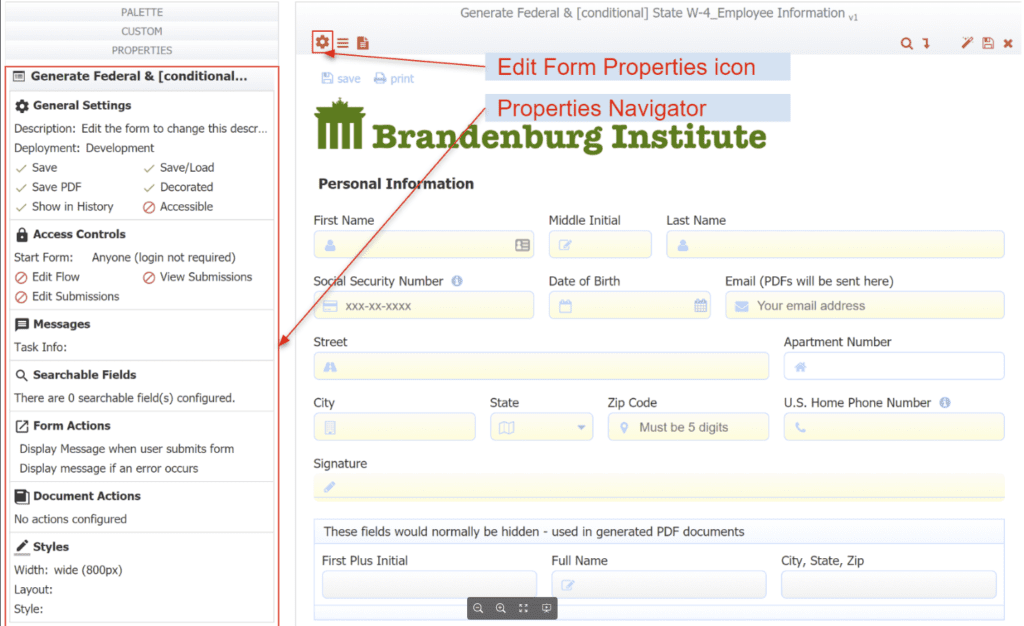 Build forms with zero code
Easily design forms with zero coding knowledge. frevvo provides templates you can use out of the box or modify to suit your business needs.
The dynamic form builder uses an intuitive drag-and-drop system with no programming experience needed. They are completely customisable, including options to:
Change labels
Adjust widths
Show or hide sections
Perform calculations
Include collapsible sections
Add tables
Request e-signatures
Set up dynamic validation
Customise styling to match your brand

By digitising forms, you will be increasing efficiency, ensuring clear processes, keeping data more secure – plus helping the environment.
Automate processes with workflow management
Don't miss a step. Once your form is built, automate a workflow to manage it and share with the right people. As part of workflows you can incorporate notifications, reminders and escalations.
Just drag and drop each step of the process into the visual workflow, and you can even set up dynamic behaviour and route workflows conditionally.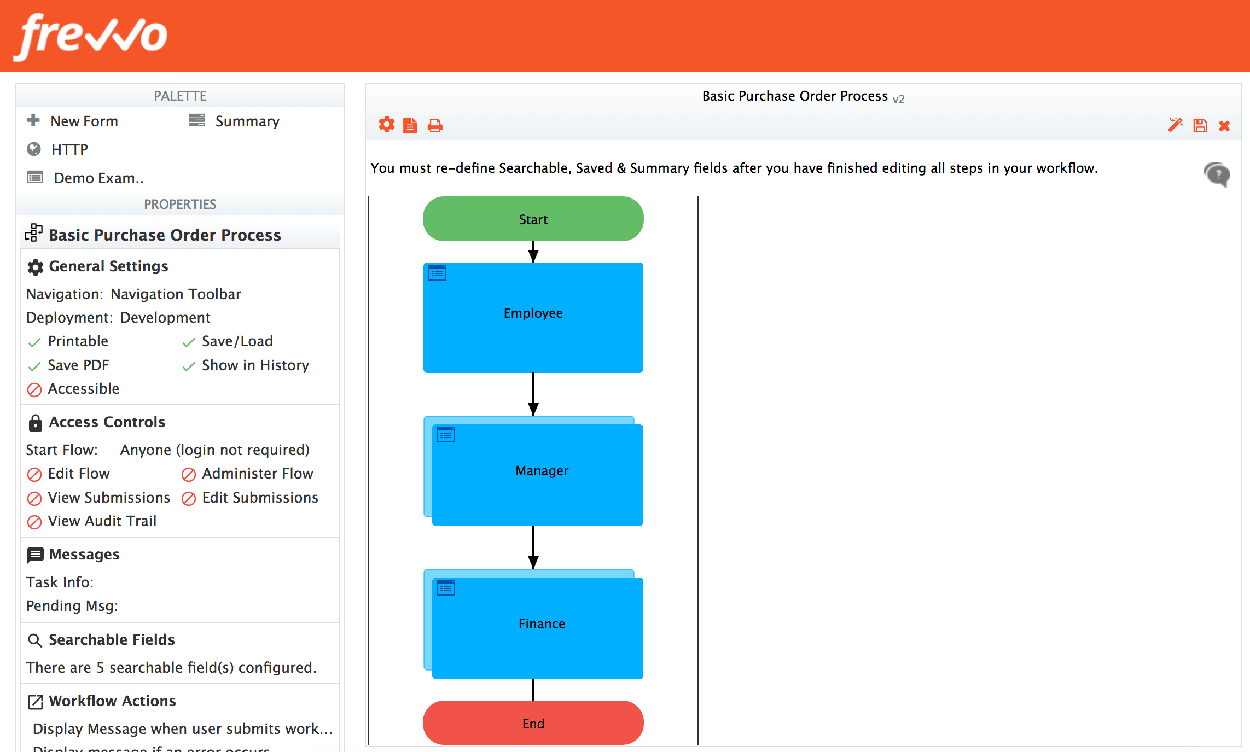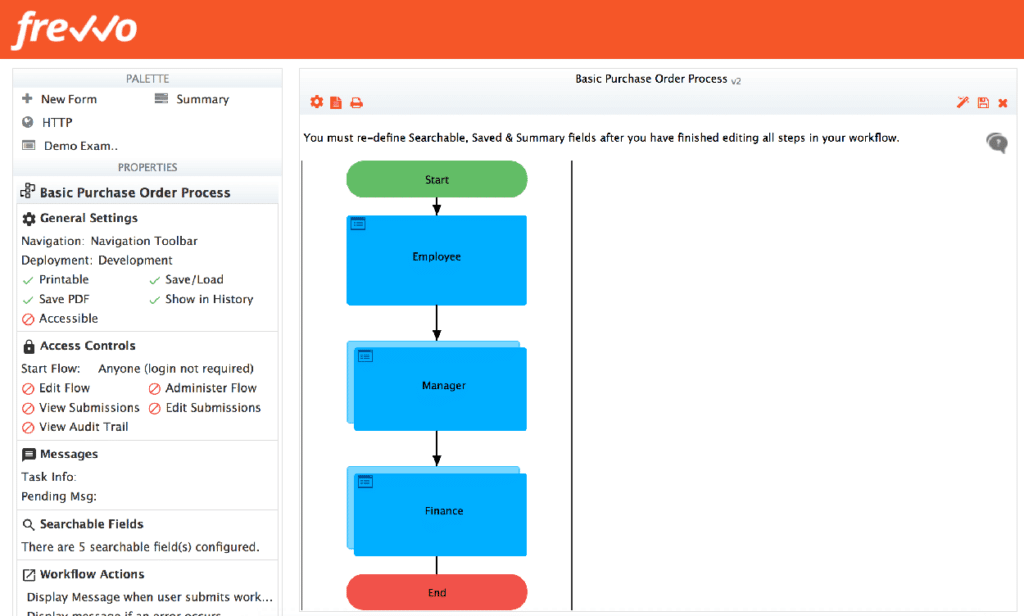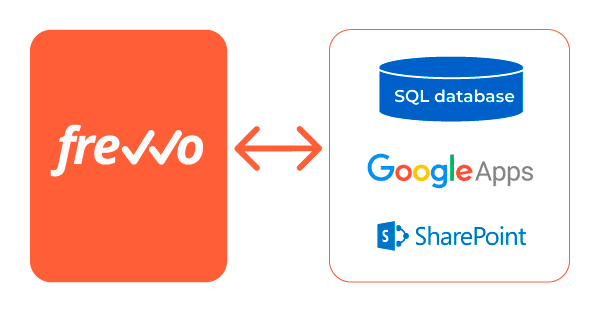 Seamlessly integrate with business systems
Your data sits within systems – and so should your forms and workflows. Seamlessly integrate your data with business systems, databases, applications and cloud services using APIs. These include SQL databases, Google Apps and SharePoint.
With such integration, your forms can be pre-filled, saving time and repeated effort.
Analyse and optimise workflows
frevvo has built-in reports to track and analyse your processes.
This identifies bottlenecks and suggests ways to increase productivity so you can continuously improve, making the experience more pleasant for your customers, suppliers and internal teams.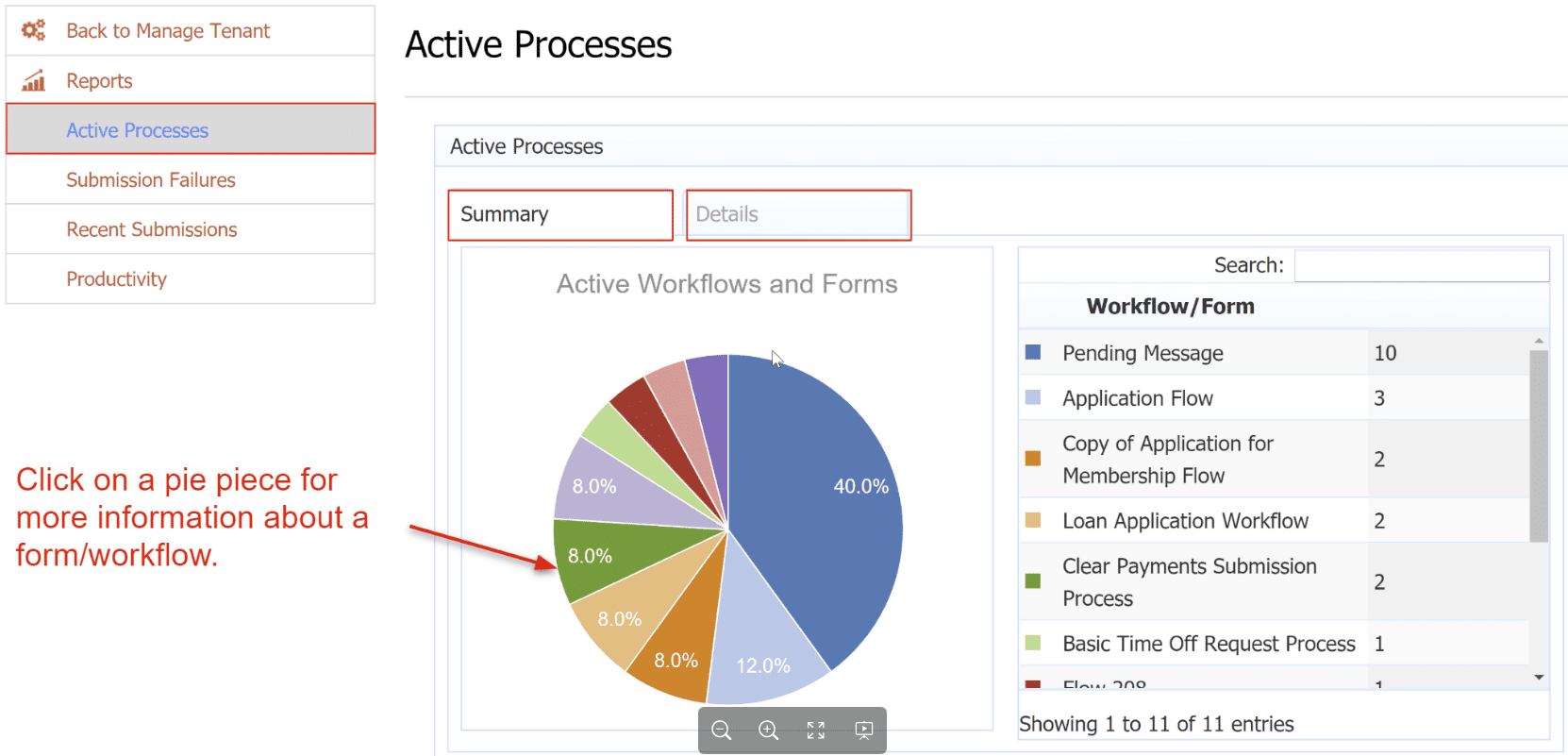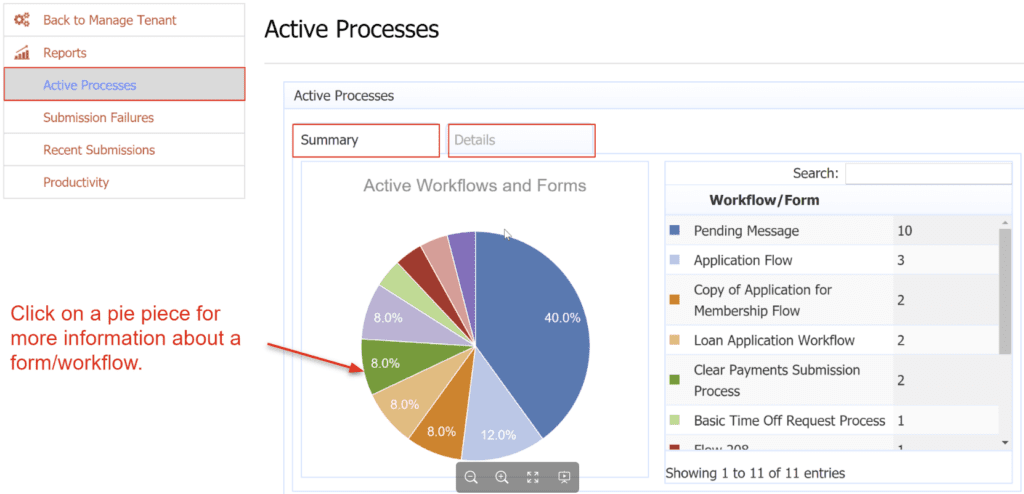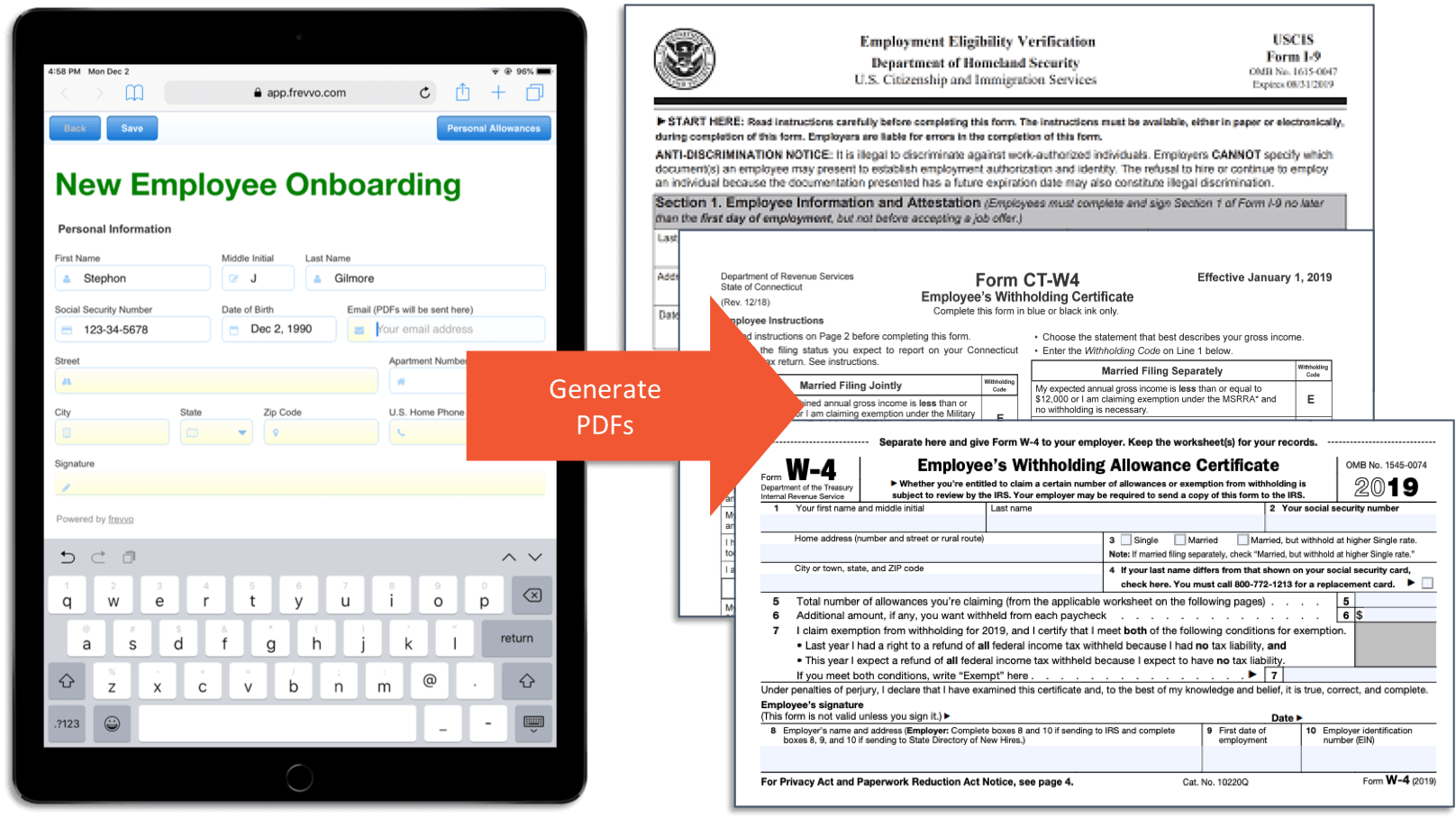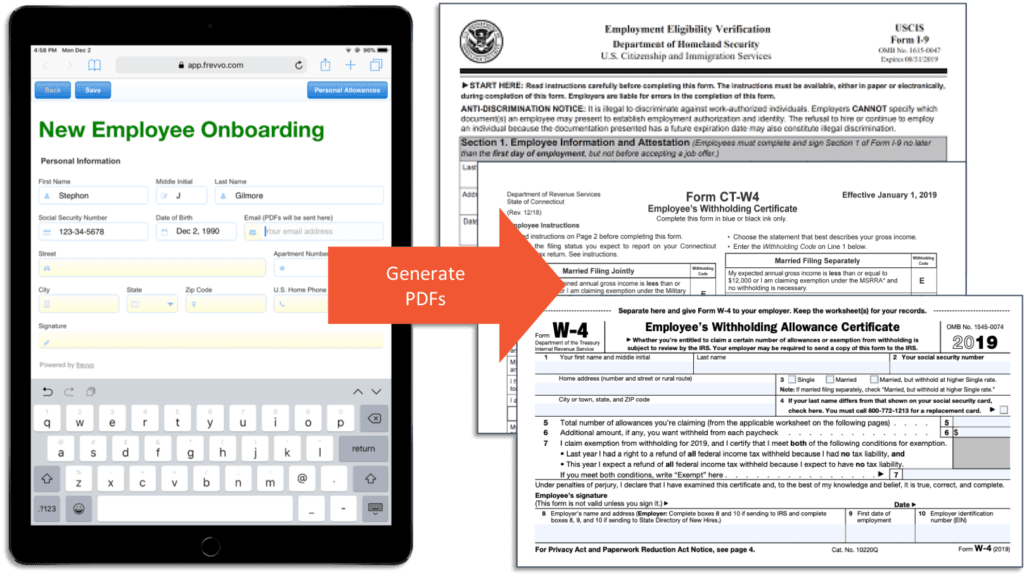 Create dynamic PDFs from online forms
From new employee forms to purchase orders, frevvo makes it easy to generate dynamic PDFs. Just create the form, add dynamic behaviour including conditional fields and digital signatures, then drag-and-drop the map form fields to your PDF.
This removes inefficient manual processes, reduces error and speeds up workflows.
Look good anywhere, anytime
Whether on the computer, tablet or mobile – it's no problem. frevvo's forms are responsive and will adjust to look good on any screen size.
You get 24/7 access to whatever you need, whenever you need it.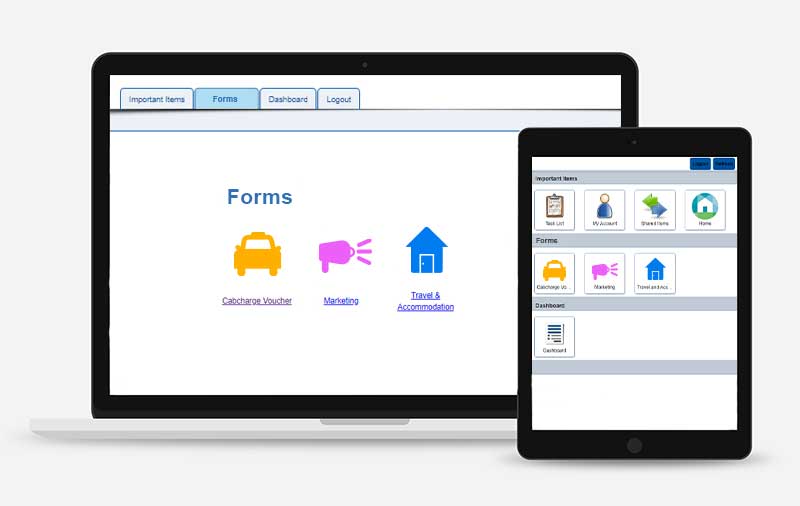 Watch the video to see how you can use frevvo to build forms and automate day-to-day workflows.
Get a personalised tour of frevvo
Transform your business with powerful Business Process Management (BPM) software
Easy point-and-click, drag-and-drop forms
Automated workflow management
No programming knowledge needed
Options for in the cloud or on-premise
Seamless integration with business systems
Secure access to forms and data
Built-in analytics for visibility into processes
Low start-up cost
Scalable: Manage anything from 5 forms to 5000 forms with unlimited users
24/7 access anywhere anytime
Hitting a winning score with workflow automation
Australian Cricket needed to upgrade their clunky forms tool to one that could deliver greater business efficiency. With frevvo, they:
∙ Automated business processes
∙ Halved the turnaround for processes
∙ Optimised workflows through tracking and reporting
Frequently Asked Questions
Accelerate your business with workflow management
Transform complex, manual processes into 100% automated, streamlined workflows with frevvo